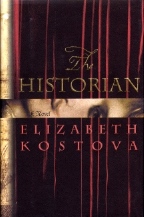 We have our first thrown book of 2010!
A "packet of letters" (please tell me what this brings to mind - an envelope? A folder?) sends a daughter racing after her father, a historian scholar whose life has become entrapped in the tales of Vlad Tepes, or Dracula. Paul has spent his entire life trying to find his missing wife and mentor, fearful that they are part of Dracula's ever-increasing group of minions.

The story is meant to be written in the Victorian style, but this proved to be elusive and annoying. For example, this "packet" of letters proves to take up half of the 600-page novel. The narrator of the letters (Rossi, the missing mentor) and Paul's letters are written in the same voice.
Don't get me started on the ridiculous coincidences. (SPOILER: the mother throws herself off a cliff, leaves a blood stain on a rock, yet manages to survive by rolling onto a grassy portion?! WTFlippin'Hell?!) I truly believe in the suspension of dis/belief in a novel, but this one pushed me past my boundaries.
Door, meet The Historian, traveling at high velocity.

Lucky for you, it is a good basic story, so you will get to see it in theatres within the next four years. I will stay home with a vodka seven and grind my teeth.