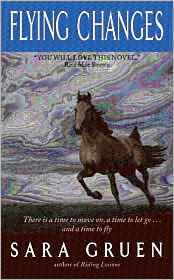 I sorta-kinda liked
Water for Elephants
and half-remembered that it was historical in nature and literary in style. Mm, no. I should use the search option on my own blog more often.
Flying Changes
is the second book in a series (I guess of only two because she's moved on to writing about apes) about Annemarie Zimmer, an almost-40-year-old woman with a pAin in the A daughter and iffy boyfriend. Still, she has her horses. She has wonderful memories of Harry, the horse that tripped and fell during competition, putting Annemarie in a coma and Harry to the great farm in the sky.
As I read, I thought, "This woman is annoying." She is neurotic and obsessive and strange. A-ha, but I didn't know about the first book, so I missed a lot of references.
Still, this was not a journey I wanted to take for pleasure. I have my own teen to yell at me, I have my own experiences with horses that need to go or be put down. Many of you may like this as a quickie read, but I never felt the satisfaction of escape. That is why I read and write. Otherwise, it is like the "stay-cation" of the mind.
1.75 out of 5.0
Bay Horses
.