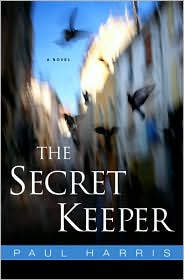 This debut novel about British journalist Danny Kellerman puts a new spin on the world of Sierra Leone. As he covers the war, he meets a children's aid worker named Maria, who seems to be out to save the world. After receiving a letter from her four years later, pleading for help, Danny finds out that Maria had been killed in a roadside burglary. Using journalism as an excuse, he flies back to Freetown to determine the true cause of Maria's death.
I have read many books about the occurrences during the war, Mosquito, and the RUF (child army). If this had been just another book about this horrible part of history, I would have put it down. Instead, Harris uses the history as a backdrop for a mystery. Especially for people who are not familiar with the war, it is a good introduction to the misery and hopelessness of the Africans involved.
My only gripe is that the viewpoint switched from third person, limited to omniscience - and at the strangest times in the story. It popped me right out of the groove. Instead of viewing this as a mystery through Danny's eyes, I was suddenly with a man on a porch? Outside of that quibble, this is a great beach read for mystery lovers.
3.25 out of 5.0
Gin and Sins
.