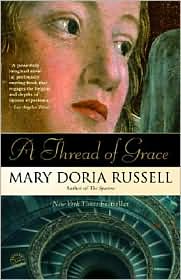 Yesterday, our local PBS station showed Parts I and II of
Ken Burns' The War
, an insightful look at World War II and its affect on four American towns/cities. The end of Part II showed how the Allies invaded Italy, and I was reminded of this book.
Yes, I cheated. In my dot to dot experiment, I didn't take into consideration the length between "want book" and "have book." I skipped ahead, but I'm so glad I did.
A Thread of Grace
is the unsentimental saga of Italy's role during World War II, particularly its peek at the people's protection of Jewish Italians. With multiple characters and "threads of grace," the author kindly adds the names and monikers at the beginning of the novel. After picking it up and putting it down several times, I was especially happy to review this.
Russell's dedication to her story is demonstrated through her meticulous research, but it's her wonderful writing and character believability that makes this a book that should be required reading.
4.75 out of 5.0
Dark and Stormys
.