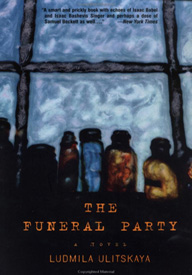 From the book club website:
"August 1991. In a sweltering New York City apartment, a group of Russian émigrés gathers round the deathbed of an artist named Alik, a charismatic character beloved by them all, especially the women who take turns nursing him as he fades from this world. Their reminiscences of the dying man and of their lives in Russia are punctuated by debates and squabbles: Whom did Alik love most? Should he be baptized before he dies, as his alcoholic wife, Nina, desperately wishes, or be reconciled to the faith of his birth by a rabbi who happens to be on hand? And what will be the meaning for them of the Yeltsin putsch, which is happening across the world in their long-lost Moscow but also right before their eyes on CNN?"
All of this packed into 160 pages. It was overwhelming, especially all of the names. But after getting past that, it was a powerful book. Unique in the metaphor between Alik and Russian politics.
But would I read it again? Probably not. Unfortunately, I can't figure out exactly why. Is the final push to meet my goal staining my impressions? Or have I simply read so many books that I'm not very impressed with anything now? Has this experiment destroyed my love of literature?
Deep thoughts for this bitter-ice Sunday.
No grade due to my own confusion.