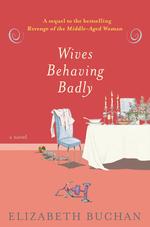 "You know what you need. You need to read a summer book. You need to read something breezy and mindless."
Okay, I tried. Recommended by a friend, I attempted to immerse myself in the story of Minty Lloyd, the other woman who eventually got the man to leave his wife and marry her, and now balances life with an older husband, twins, and a high-stress job. Not very well, I might add.
From the beginning, Minty fights against the shadow of the ex-wife, Rose. Perhaps I could sympathize with her, but after finding out that Minty not only was Rose's friend, but stole her husband and her job, my irritation grew. Wife behaving badly, indeed.
The characters are one-dimensional and snarky. If I lived this life, I would have chugged a liter of Grey Goose and bottle of sleeping pills a long time ago. So, rather than waste much more time, I flipped through the pages, read the obligatory "happy" ending, and wondered what I was missing in this otherwise well-reviewed novel.
.75 out of 5.0
Silly Cillas
.